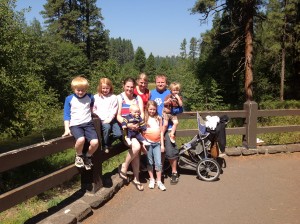 Thanks for clicking over and paying us a visit.  I trust you are finding what you are looking for but if you ever have any questions or need more information please contact the office at (541)942-3822, or email us at info@6thandgibbs.com.
My name is Aaron Earlywine and I am the preaching pastor here at Sixth and Gibbs.  We are all people who claim no righteousness of our own; Jesus is our righteousness and together we are doing our best to live for him together.  We are a community of people who gather together in homes during the week at various small groups and then together each week on Sunday morning for encouragement and inspiration.
It is our goal to take the awesome message of Jesus with us wherever we go.  In Matthew 28:18-20 we are called to be disciple makers.  Therefore, everything we do is geared around introducing people to their Savior Jesus and encouraging them to live their lives for Him.
We also have a very high view of scripture and use the Bible as our guide.  In general, all of our Sunday messages are preached verse by verse through God's Word.  Our ministries to youth and children are also geared around this truth, and our childrens' ministry is a disciple-making ministry.
If these beliefs are yours too, we welcome you to Sixth and Gibbs.  If you are searching, we challenge you to give Jesus a try and to please let us know how we can assist you in your search.